Internal Communications That Engage Every Employee
Employee Engagement - Jive-n Social Intranets
You can talk, but are your employees listening? Not when strategic communications are trapped in inboxes or sitting unread on ghost-town intranets. Jive-n liberates communication, top-down and bottom-up. Executives can reach out to employees in blogs and videos – and measure their reach with personal Impact Metrics. HR can post onboarding and benefits info. Corp comms can get the news out. Jive-n ensures high visibility, even on smartphones and tablets. And it opens up two-way conversation – so employees can ask questions, give feedback and work together to translate ideas into effective action.
Blogs and Video
Blogs and videos let executives reach out directly to employees in a way that's personal, compelling and memorable. There's no better way to keep people aware and involved in your organization's initiatives and strategies. Everyone can ask questions, give feedback and work together to translate executive messages into strategic action.
News Streams
News streams intelligently deliver the communications employees need to stay aligned, informed and engaged. You can auto-subscribe employees to vital company news that's accessible anywhere, on the desktop or on the go. You can target content streams based on a variety of attributes, including LDAP and Active Directory fields, Jive-n profile fields and more.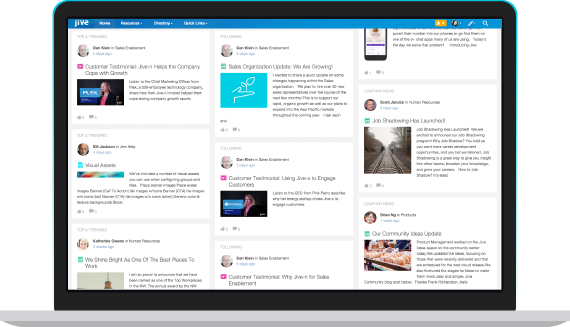 Mobile
Employees are no longer tied to their desk, let alone their desktop computer. Jive-n allows you to effectively and effortlessly reach everyone in your organization, regardless of how they work and where they consume information.
Insights and Analytics
Employee surveys and email read-receipts are no longer enough to understand whether people are reading or buying into your messages. Jive-n puts meaningful insights at your fingertips, gauging the reach and impact of every communication. Measure what really matters by comparing the effectiveness of communications across divisions, teams and locations to drive enterprise-wide alignment.
Content Moderation
Social tools are great for community building and giving everyone a voice, but sometimes you need a filter. Jive-n puts you in control of your communications and your community with keyword auto-monitoring, designated moderators and functionality to allow community members to report inappropriate use.
Build an Engaged, Happy Workforce
Jive-n for Employee Engagement enables internal communications professionals to more effectively engage with employees about key company information, strategic direction and more, while building a sense of community across the organization.