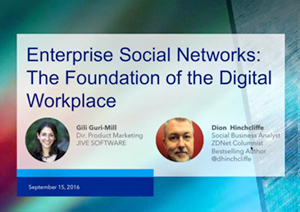 On Demand Webcast
Enterprise Social Networks: The Foundation of the Digital Workplace
As more organizations overhaul and update their digital workplace environments with the latest devices, apps, and solutions, the main question is, what should the central focus be?
The answer? Your enterprise social network. A place where everyone's conversations, documents and data can be easily created, shared, accessed, collaborated on, tracked, analyzed and optimized.
Listen in as industry analyst Dion Hinchcliffe speaks on best practices and strategies that organizations can employ to make the enterprise social network the hub of the new digital workplace.