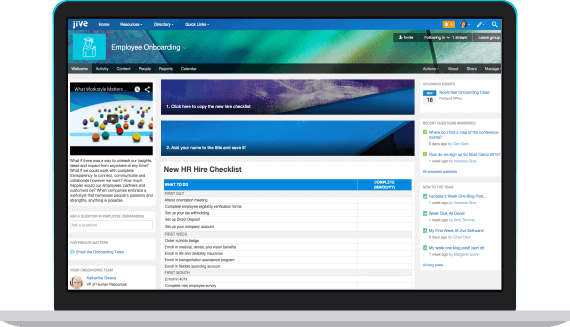 Turnkey Package
No expensive customization. No dedicated IT time. No extra costs for premium features. Jive comes ready to go with everything you need (and want), right out of the box.
PeopleGraph™
Jive's groundbreaking PeopleGraph™ technology maps relationships among people, content and activities across your digital ecosystem. It then uses this intelligence to anticipate users' needs and deliver hyper-targeted recommendations that will help get work done better and faster.
Pre-Built Sites And Pages
Choose from beautiful, ready-to-use pages and sites for key processes like employee onboarding, sales enablement, HR Portal, IT Help Desk and more.
Cloud Deployments
Enjoy the convenience of the cloud. When it comes to deployments, we've got you covered with world-class Amazon Web Services.
Streamlined Administration
Administration is simpler than ever, with a minimalist console that lets you handle the most common tasks without getting lost in the details. Just click to access more advanced functions.
Customer Success
Give your team members the knowledge they need to use Jive through our established onboarding program. Then, drive continuous improvements with dedicated customer success managers and 24/7 customer support.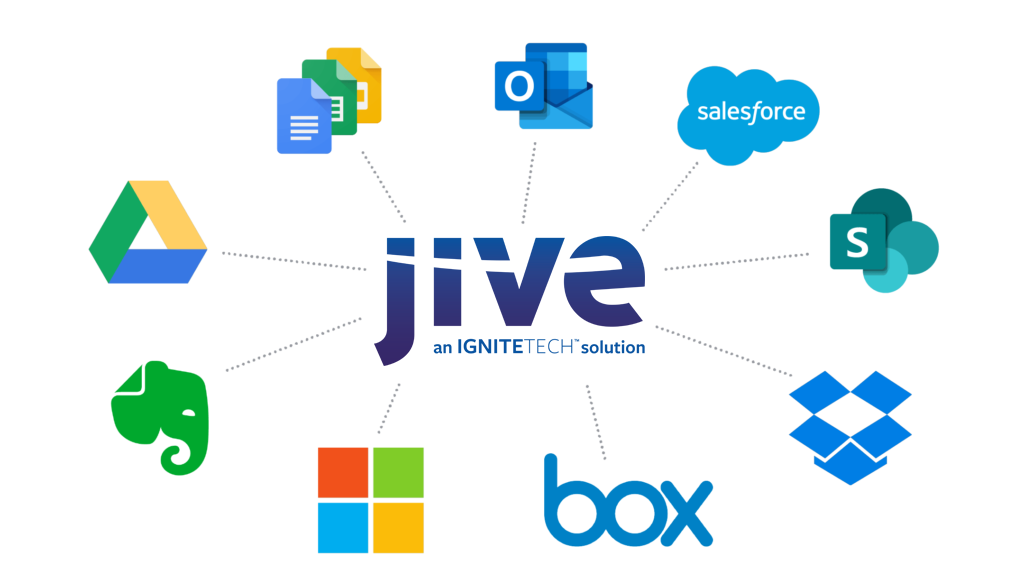 Integrated Hub
Unite your teams and simplify your IT landscape. Jive brings disconnected tools and systems into one integrated digital workplace, unleashing high-performance collaboration while reducing operating costs.
Centralized Collaboration
Pull information, conversations and activity from external systems into one organized space where everything is easy to access, share and work on together.
Sync Across Apps
Whether you work in Jive or external systems, Jive's bidirectional integrations keep content, comments and activity consistent and up to date across all platforms.
Federated Search
No more scavenger hunts across disconnected systems. Find anything in Jive or connected systems with one federated search.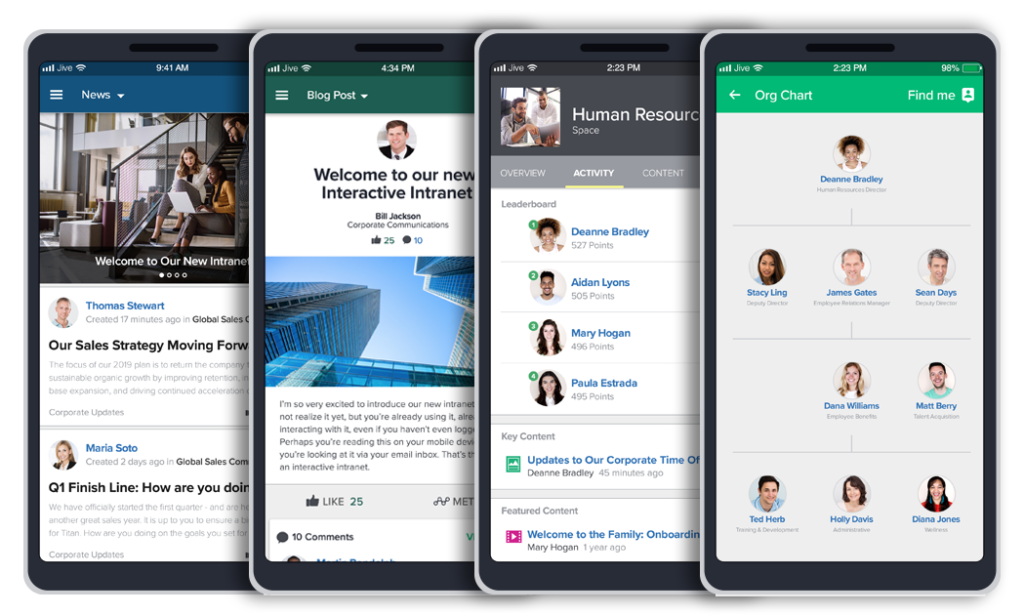 Mobile App
Modern collaboration in your pocket. Access the full power of Jive anytime and anywhere with the Jive Daily mobile app.
News
Stay up to the minute on the latest company news, announcements and executive communications. Targeted news streams deliver only what matters to you.
Communications
Manage all your communications in one inbox. Read and respond to messages, view notifications, stay updated on people and content you follow.
People Directory
Find colleagues in seconds with rich profiles that include people's skills, recent activity and content, even their place in the company org chart.
Productivity
Create and share docs, blogs, photos, videos and other content. Confer with colleagues, comment and discuss – all from your smartphone.
User-Friendly
Jive Daily boasts an intuitive, user-friendly experience from your favorite mobile device. Enjoy full features, a familiar dashboard and clean navigation.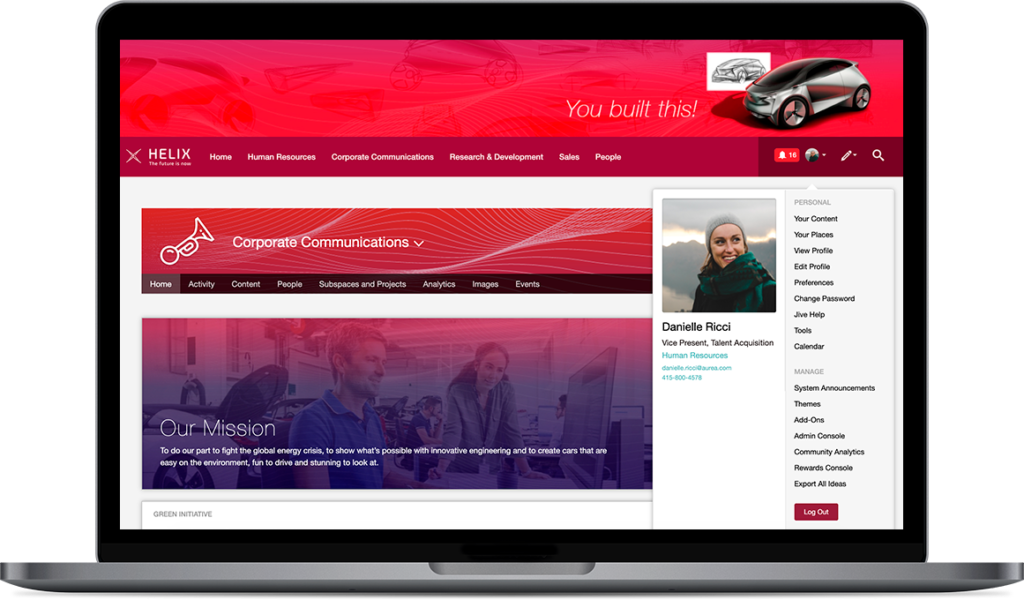 Personalized Experiences
One size does not fit all. Jive understands that every employee has different needs, so our platform adapts to individual work patterns and preferences.
Discovery
Jive's Google-like search capabilities go beyond keywords to actually understand users' search intent and surface the conversations and content they're really looking for.
Recommendation Engine
Jive uses machine learning to recommend highly-relevant information – whether its eBooks, webinars, training manuals, content experts, etc. – to your employees in real time as they work.
User Profile
Jive's rich user profiles go beyond the usual name, job title and contact information found in most employee directories. They highlight skills, activities, endorsements, connections and more to provide detailed portraits that help coworkers get to know each other and identify collaboration opportunities.
Security, Privacy, Availability
Companies of every location, size and industry trust Jive to keep their information safe. We work hard to deserve and maintain that trust by exceeding even the most stringent international requirements for security assurance, privacy, availability and compliance.