All Your Employees. All Their Knowledge. All In One Place.
Jive provides an integrated, open hub for collaboration across the organization. It's a single organized place to meet, plan, execute and stay in sync, from your smallest tiger teams to the edge of your business ecosystem. The result? Faster, more meaningful communication that drives change and fosters innovation.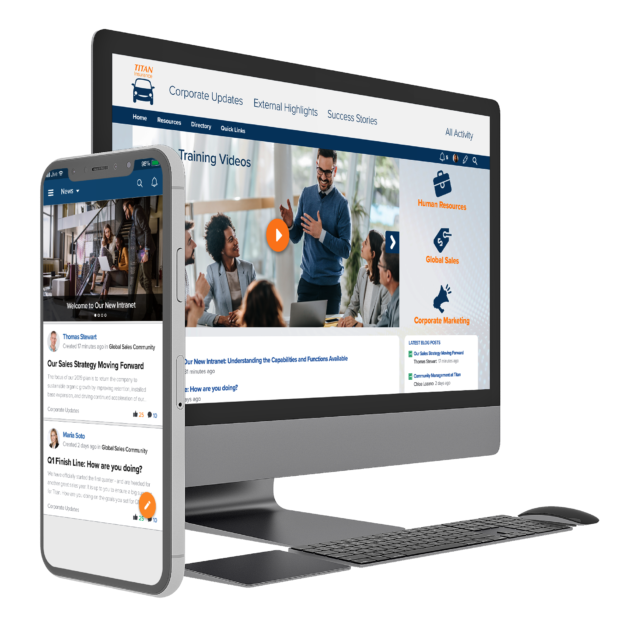 Enhance Collaboration To Accelerate Transformation
With Jive, it's easy to collaborate at every level: teams, departments, cross-functional groups, large enterprise-wide communities, and even people outside your organization like partners, agencies and contractors.
The platform surfaces knowledge and intelligently recommends relevant colleagues and information. As people collaborate in Jive, their activity is captured, organized and preserved for future use, building permanent corporate memory – and an unforgettable company culture.
Companies using a Jive interactive intranet achieve results like:
83% daily active user rate – an industry best
15% increase in productivity
38% jump in employee satisfaction
Everybody can meet everybody and initiate any kind of communication, collaboration, whatever you want on the same platform in real time, and whatever is created there is available for everybody else. And that's the ideal situation for a company.
Before Jive, it was difficult to get your job done. It was difficult to find people. And now, you can just log in. Jive is always on. It's always available. It's on your mobile phone. It's on your desktop. And it just makes life so much easier.
With the launch of Jive we have not only have our best intranet but also a new layer of collaboration that's connecting our senior leadership down to every level of the organization and allowing bidirectional communication in a way we never had in the past.
Achieve Peak Productivity With
Connected, Collaborative Teams
Jive brings the future of work to your organization with an open, easy-to-use environment that
provides cohesive collaboration across your people and systems.
Spaces & Groups
Configure and launch spaces and groups tailored to your teams, departments and communities.
External Collaboration
Leverage externally accessible groups for secure private collaboration with outside contributors.
Documents
Jointly create, comment on and revise documents while Jive keeps all drafts and authors in sync.
Task Management
Assign actions, track outcomes and ensure follow-through.
Recommendations
Find relevant people and information fast with machine learning and Jive PeopleGraph technology.
Easy Admin
Enable business users to set up and manage their own spaces without any IT help or resources.
Mobile
Keep employees connected and productive on the go with a compelling mobile experience.
Social
Use @mentions, following and activity streams to keep collaborators in sync and up to date on projects.
Pre-Built Spaces
Leverage ready-to-use spaces for use cases like employee onboarding, sales enablement, HR portal, IT help desk and more.
Security
Trust enterprise-grade security, including ISO 27001:2013 and SOC 2 Type II certification.
Integrations
Pre-built connectors to SAML/SSO, Active Directory/LDAP, MS O365,SharePoint, Google, Salesforce, Jira and other systems.
The Jive Advantage
What makes Jive different from other collaboration platforms? Six elements that we call The Jive Advantage.
PeopleGraph™ technology that maps your users and anticipates their needs
Modern collaboration hub that brings your people, content and resources together
Google-like search that delivers hyper-targeted results
Fast implementation with our tried-and-true deployment methodology
Comprehensive training and onboarding program
24/7 U.S.-based customer support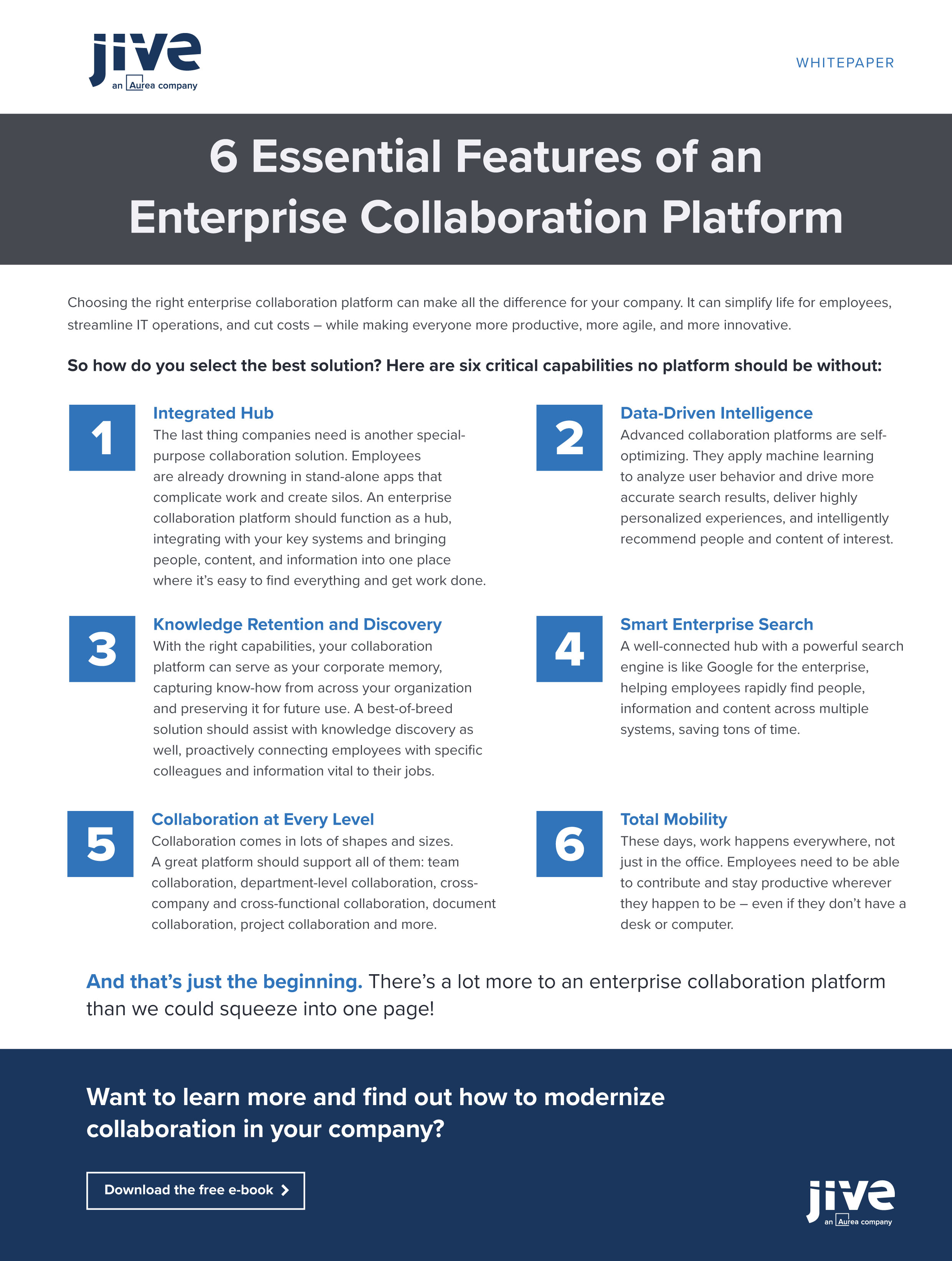 6 Essential Features Of An Enterprise Collaboration Platform
Discover the must-have capabilities to propel your workforce to new heights of productivity, agility and engagement.
Frequently Asked Questions:
We've got your back every step of the way!
What are online collaboration solutions?
Online collaboration solutions allow your employees to connect, plan and work in one digital workspace. Jive's industry-leading collaboration hub helps create meaningful communication across the entire organization.
How does Jive interactive intranet enhance productivity and collaboration?
Jive interactive intranet brings people, information and content onto one platform. Our technology makes document storage and document access easier and more streamlined for employees.
Does Jive provide employee engagement solutions?
Jive provides best-in-class employee engagement solutions to global businesses. Jive intranet solutions successfully boost employee engagement, improve organizational alignment and increase overall company productivity by offering a centralized intranet system that connects everyone with a single platform.
How can I improve collaboration in the workplace?
Reliable, relevant communication is at the heart of successful collaboration. Jive brings teams together while streamlining communication and optimizing productivity.
How does an enterprise community platform work?
Enterprise community platforms provide organizations with a digital space where all members can find each other, engage in productive discussions, share files and build stronger relationships. Contact us to create your secure collaboration platform. We will guide you through designing and managing engaging communities for your entire organization.
How do information silos block productivity and knowledge sharing?
When organizations use a variety of systems and tools, this fragmentation often creates barriers that blocs the flow of knowledge. You can prevent this by using a powerful enterprise communication platform where all your employees can connect, share information and work together as a community.
What is the best way to share research within a team?
You've worked hard on the research; allow us to help you share it. Our AI-driven enterprise collaboration solution makes it easy to upload, share and store content and files. Feel free to upload content created in other applications; or pull in documents directly using Google Docs, Microsoft Office 365 and other systems. No matter where the content is stored, we will make it easy to find and share.