The Interactive Intranet That Puts People First
Jive enables HR teams to create an exceptional experience at every stage of the employee journey. From training and onboarding to recruitment and retention, and from collaboration and alignment to productivity and innovation, Jive connects your people and strengthens your culture.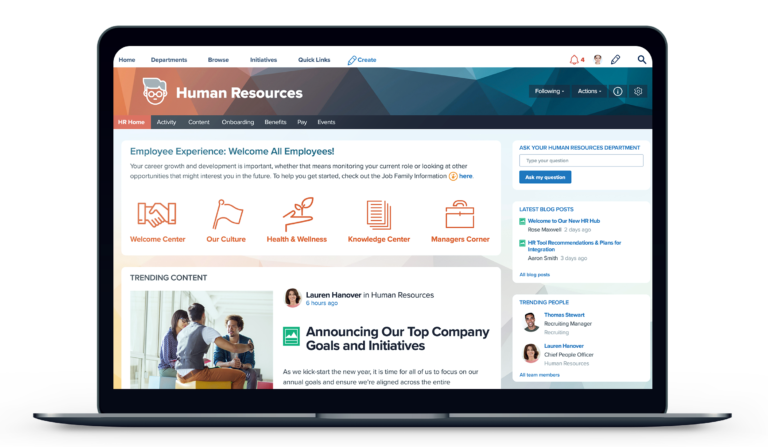 Recruit, Develop And Retain Top Talent
With Jive's ready-to-run HR portal, Human Resources can quickly and easily enable richer employee experiences while reducing administrative work. Forget red tape: Jive breaks down silos, boosts collaboration and unites your workforce to drive innovation and transformation.
Companies using a Jive interactive intranet achieve results like:
24% decrease in employee turnover
61% better employee connectivity and alignment
38% increase in employee job satisfaction
Highly engaged teams show 21% greater profitability, 17% increase in productivity, and 20% increase in sales.
89% of HR leaders agree that ongoing peer feedback and check-ins have a positive impact on their organization.
Disengaged employees can cost companies up to $550B per year.
Empower Your Most Important Asset: Your People
A Jive employee experience hub gives HR teams the tools they need to increase employee engagement across the organization, delivering on the promise of the future of work.
Onboarding
Help new hires quickly absorb your culture, meet colleagues and jump right into work.
Education
Provide formal and informal learning in a convenient, collaborative and cost-effective way.
Recognition
Turn feedback among managers and peers into a routine and ongoing part of work.
Rewards
Motivate and incentivize onboarding, learning and performance with customizable quests and rewards.
Analytics
Leverage powerful analytics to understand and improve employee sentiment and engagement.
Support
Provide self-service and peer-based support to help employees find answers easily without having to email HR.
Collaboration
Improve teamwork to boost engagement, create cultural cohesion and improve satisfaction.
Mobile
Engage employees everywhere, including remote workers, with an intuitive mobile experience.
Ready-to-run
Configure, integrate and launch a complete HR portal in hours – without having to bother IT.
The Jive Advantage
What makes Jive different from other collaboration platforms? Six elements that we call The Jive Advantage.
PeopleGraph™ technology that maps your users and anticipates their needs
Modern collaboration hub that brings your people, content and resources together
Google-like search that delivers hyper-targeted results
Fast implementation with our tried-and-true deployment methodology
Comprehensive training and onboarding program
24/7 U.S.-based customer support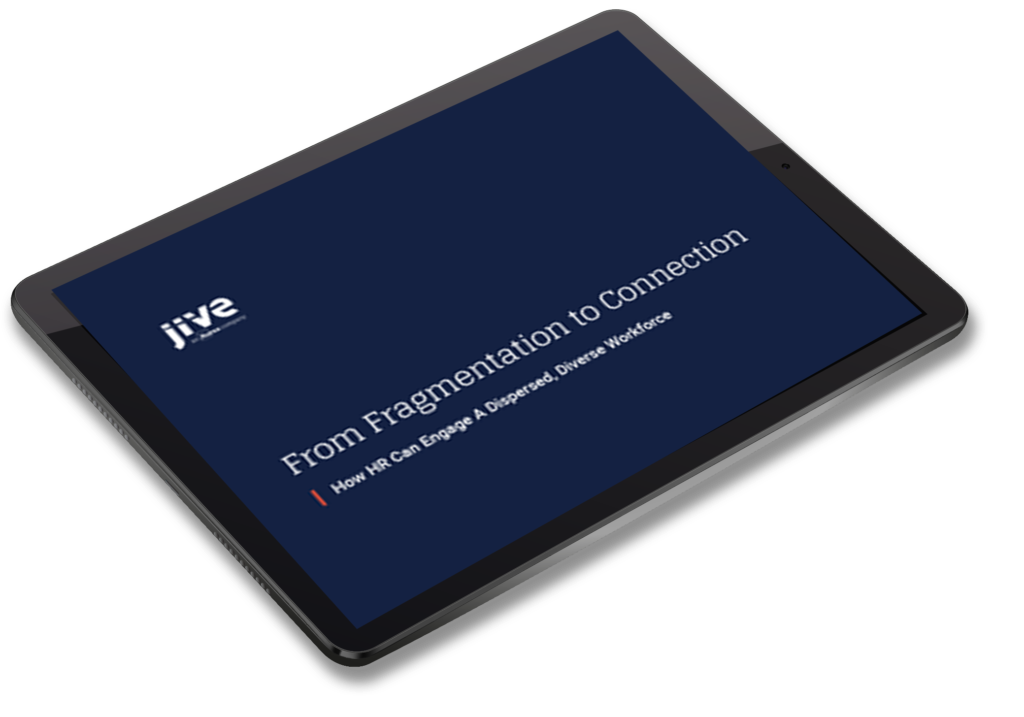 How HR Can Engage A Dispersed, Diverse Workforce
Learn how an interactive intranet can serve as a complete employee experience hub, driving satisfaction, learning and motivation across the entire employee lifecycle.
Frequently Asked Questions
We've got your back every step of the way!
Does Jive technology offer email notifications or alerts?
Our platform allows you to set and customize stream and email notifications. Our technology helps you stay connected with alerts for every time a person, place or item is posted or updated in that stream. You can receive notifications in the Jive mobile app or to the Jive Daily app.
How does Jive provide engaged HR solutions?
Jive's interactive intranet helps HR teams create an outstanding experience for employees at every stage of their organizational journey. From hiring to retention, training to onboarding—the Jive employee intranet portal connects people, strengthens organizational culture and boosts productivity.
Is Jive a good online task manager for teams?
Yes! Jive's intranet software is an excellent platform to use to assign and manage tasks among teams. While you may still want to use an additional task management tool for tracking, Jive enterprise intranet will help your employees get the job done faster and more efficiently. Jive will also help increase productivity among employees, freeing up their time for other tasks.
Will Jive help decrease costs related to customer support?
Jive helps decrease customer support costs by reducing IT support tickets and keeping everyone updated on time.
What is an employee communication platform?
An employee communication platform helps businesses communicate effectively with all employees within the entire workforce. Employee intranet software drives employee engagement by serving as a platform for news about initiatives, helping to promote company culture and values and more.
How do you prevent a communication breakdown in the workplace?
Jive's advanced company intranet platform provides seamless and effective collaboration across your organization, keeping you and your employees connected at all times—and keeping misunderstandings to a minimum.
How can HR teams use communication to improve employee engagement?
Jive's industry-leading intranet technology helps HR teams build a better-connected workplace to improve employee engagement and productivity. Our industry-leading intranet helps in the following ways:
Jive allows employees to easily access HR documents.
Jive promotes transparency by offering a centralized HR management system.
Jive improves efficiency through HR task automation.
Why does email consume so much of employees' time every day?
Employees lose tons of time simply checking messages, responding and switching among apps. Jive streamlines communication at every level. Our collaboration platform has extensive features that increase employee engagement and maximize productivity.
What is the key driver of employee engagement?
A connected employee is an engaged employee. The right collaboration software makes working together across teams, departments and time zones simple and rewarding.
What is employee engagement, and why is it important?
An engaged employee enjoys work and respects organizational values. Jive provides a powerful employee engagement solution that can directly lead to greater employee retention and profitability.
How can you use employee engagement solutions to help employees stay connected?
Jive's employee intranet software keeps engagement high by promoting seamless communication across the digital workplace. This has a direct positive impact on collaboration, making it easy for teams and departments to work together.