No Expensive Customization. No Dedicated IT Time.
Whether you're replacing an outdated intranet or adding a digital hub to connect your employees, Jive provides a turnkey package with everything you need (and want) right out of the box.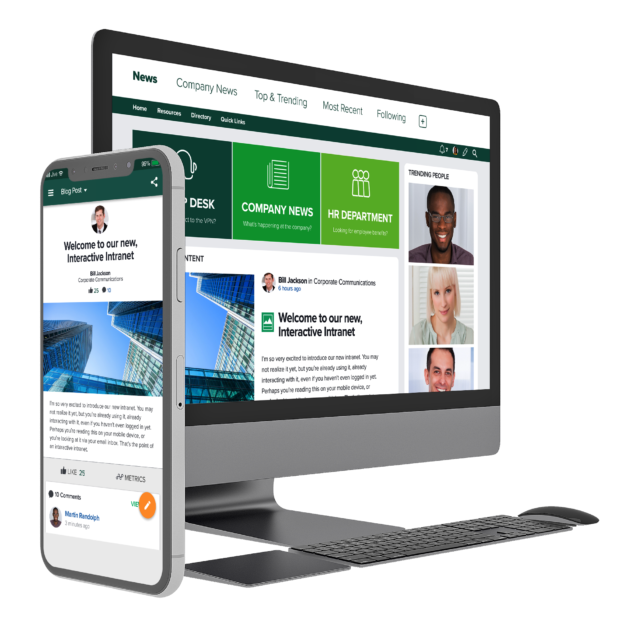 Fewer Tickets. Happier Users. Faster Transformation.
Jive enables IT departments to reduce costs significantly. With easy setup, simple administration, automatic upgrades via the cloud, and comprehensive onboarding for all employees, you'll see fewer help desk tickets and a more united workforce.
Companies using a Jive interactive intranet achieve results like:
17% fewer employee support tickets
83% daily active user rate – an industry best
15% increase in employee productivity
With Jive, you get the best of both worlds: the industry-leading collaboration platform, plus the ability to integrate all the other tools, products and services that you need.
Jive did everything we needed, virtually out of the box. Training is really light. Because it's cloud-based we were able to deploy it to all of our 250,000 users in one email. It happened overnight and we did it on time and on budget.
Everybody can meet everybody and initiate any kind of communication, collaboration – whatever you want – on the same platform in real time, and whatever is created there is available for everybody else.
Every Feature Your Employees Need, Right Out Of The Box
Give your employees the tools they need, without making your IT department foot the bill.
Enterprise-Grade
Replace rogue consumer apps and shadow IT with a highly secure system built for the enterprise.
Integrations
Pre-built connectors for SAML/SSO, Active Directory/LDAP, MS O365, Google, Salesforce, Jira and other systems.
Office 365
Boost your Microsoft ROI by bringing unified collaboration to Office 365 and SharePoint.
Adoption
Give employees an intranet they'll actually like, boosting adoption and ROI.
Help Desk
Use Jive's pre-built virtual help desk to deflect tickets through self-service and peer support.
Easy Admin
Enable business users to set up and manage their own spaces without any IT help or resources.
Mobile
Keep employees connected and productive on the go with a compelling mobile experience.
Analytics
Get unprecedented visibility into processes, interactions and engagement.
Pre-Built Spaces
Leverage pre-built spaces for use cases like employee onboarding, sales enablement, HR portal, IT help desk and more.
Security
Trust enterprise-grade security, including ISO 27001:2013 and SOC 2 Type II certification.
Deployment
Choose from cloud or on-premises deployment options.
The Jive Advantage
What makes Jive different from other collaboration platforms? Six elements that we call The Jive Advantage.
PeopleGraph™ technology that maps your users and anticipates their needs
Modern collaboration hub that brings your people, content and resources together
Google-like search that delivers hyper-targeted results
Fast implementation with our tried-and-true deployment methodology
Comprehensive training and onboarding program
24/7 U.S.-based customer support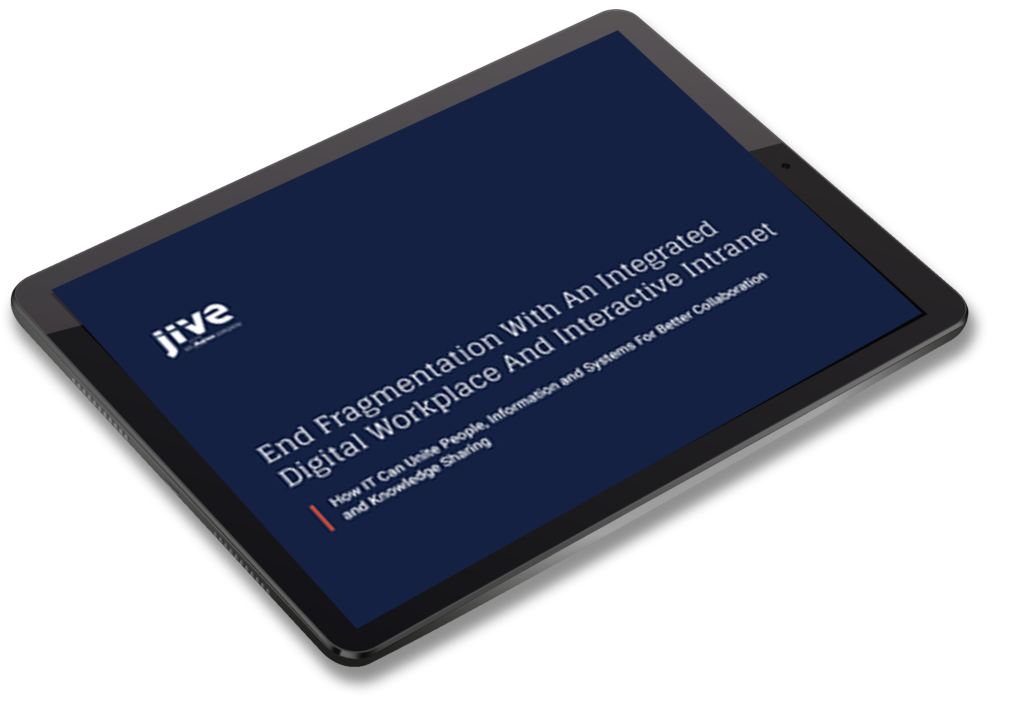 EBOOK
How IT Can Unite People, Information And Systems
An effective enterprise collaboration platform can have a dramatic impact on company productivity, employee engagement and agility. But finding an ideal solution in an increasingly diverse and sometimes confusing marketplace isn't always easy. Fortunately, Forrester Research is here to help.