Goodbye, Ghost-Town Intranet
Jive ensures that corporate communications make it to the right people, at the right time – at home, on the road, and everywhere in between. No more unread emails, no more empty intranets. Jive keeps all your employees engaged, informed and up to date.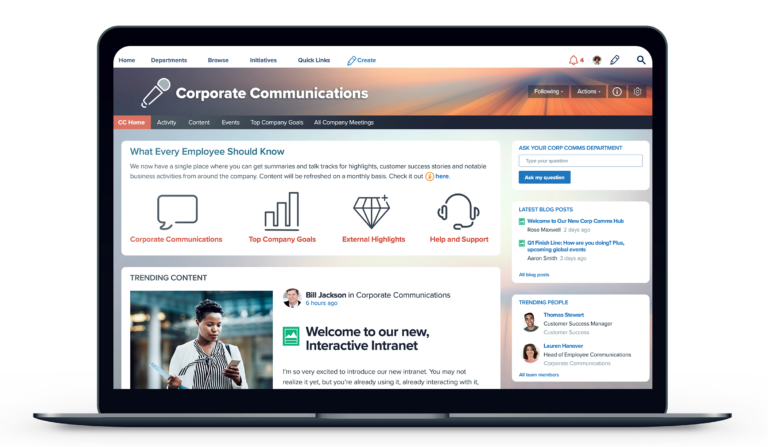 Improve Reach, Relevance And Impact
With Jive, Corp Comms teams can reach every employee, including remote teams, deskless workers, and even people without a company email address.
Jive makes it easy to create and deliver more compelling content, ignite two-way dialogue, and measure the impact of your efforts in real time. Designed for the fast-paced modern workplace, Jive enables high-impact, personalized communications that cut through the noise.
Companies using a Jive interactive intranet achieve results like:
61% better employee connectivity and alignment
21% reduction in email load
38% higher employee satisfaction
Jive connects our team members to everything that they need. It's become our hub for communicating, finding information, getting help and working together.
We've been able to align our organization with our new strategy. It's a complicated strategy and people have been able to grasp it really quickly through the use of the Jive platform.
What Jive enables is this unique solution for how companies can have a conversation with their employees. It's not just about connecting them to one another. It's about connecting them to mission, to the vision.
Connect More Easily. Communicate More Effectively.
Boost engagement and alignment with features that increase reach, raise awareness and amplify your most important messages.
News Page
Deliver the latest company news and announcements in a beautiful, eye-catching layout.
Social
Enable your users to comment, like and share content to effectively spread your message.
Two-way comms
Switch from one-way, top-down communication to real dialogue with built-in collaboration.
Sentiment
Keep the pulse of your organization with sentiment tracking and engagement analysis.
Analytics
Measure the impact and reach of your communications. See who's reading and how they're responding.
Targeting
Deliver your messages to the right people, departments and geographies with targeted news streams.
Executive comms
Energize executive communications with easy-to-publish, media-rich blogs and videos.
Mobile
Reach employees wherever they are with a best-in-class, consumer-grade mobile experience.
The Jive Advantage
What makes Jive different from other collaboration platforms? Six elements that we call The Jive Advantage.
PeopleGraph™ technology that maps your users and anticipates their needs
Modern collaboration hub that brings your people, content and resources together
Google-like search that delivers hyper-targeted results
Fast implementation with our tried-and-true deployment methodology
Comprehensive training and onboarding program
24/7 U.S.-based customer support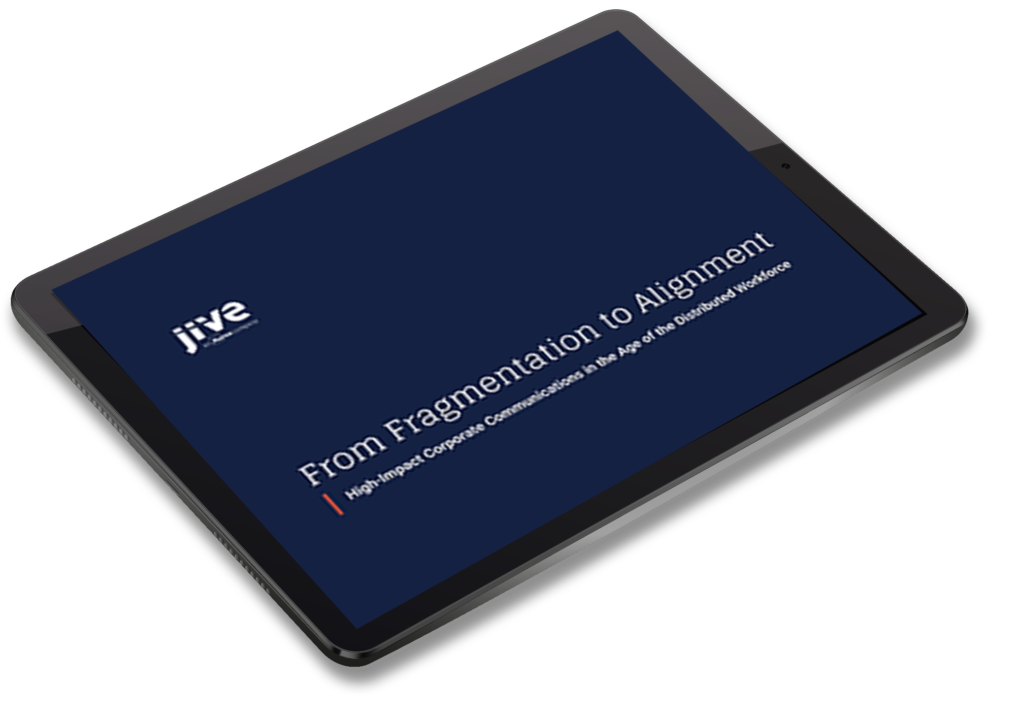 High-Impact Corp Comms In The Age Of The Distributed Workforce
A recent study found that only 14% of employees understand their company's strategy and direction. Beat the odds with the tools and tactics in this comprehensive E-Book, written just for Corp Comms teams.