The Enterprise Social Network Built For The Digital Enterprise
With Jive, everyone in your organization can instantly connect, share and get work done more efficiently – no matter where they are and how they work. Increase transparency, eliminate hierarchies and make a big company small with a truly enterprise-grade social networking platform.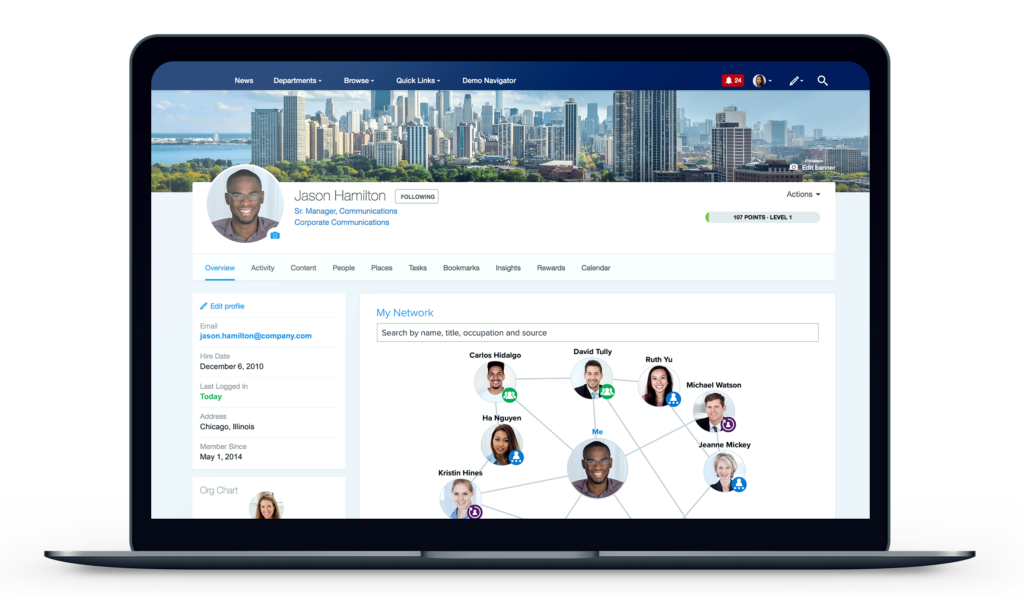 Unleash Conversation, Collaboration And Innovation
Get out of email with fast, fluid networking that connects people across your organization: one-on-one, small groups and large, your whole company or your entire external ecosystem. Jive makes it easy to keep employees up-to-the-minute on the projects, people, places and information most relevant to them.
Companies using Jive achieve results like:
15% increase in productivity
83% daily active user rate – an industry best
61% improvement in employee connectivity and alignment
Jive has made a real difference at our company in a very short period of time. People feel more connected to each other. People feel like they have a voice to bring up their ideas, to respond to others. Jive isn't just platform to read, it's a platform to be involved.
Before Jive, it was difficult to get your job done. It was difficult to find people. And now, you can just log in. Jive is always on. It's always available. It's on your mobile phone. It's on your desktop. And it just makes life so much easier.
Everybody can meet everybody and initiate any kind of communication, collaboration, whatever you want, on the same platform in real time, and whatever is created there is available for everybody else. And that's the ideal situation for a company.
Create An Integrated Hub For Meaningful Communication
As an enterprise social network (ESN), Jive enables organizations with a dispersed workforce to collaborate across geographies and departments. From remote workers to cross-functional teams, and from enterprise-wide communities to partners and contractors, Jive connects the people and information that matter most.
Social
Leverage social capabilities like discussions, status updates, comment strings, @mentions, following and more.
Personalization
Use personalized activity streams to filter out the noise and deliver only the most relevant results.
People Directory
Get to know your network with rich profiles including skills, endorsements, activities, content and more.
Search
Find people, places and content with precise, personalized results based on Jive PeopleGraph technology.
Spaces & Groups
Configure and launch spaces and groups tailored to your teams, departments and communities.
External Collaboration
Leverage externally accessible groups for secure private collaboration with outside contributors.
Integrations
Connect easily with Active Directory/LDAP, SAML/SSO, MS O365, SharePoint, Google, Salesforce, Jira and more.
Mobile
Provide a compelling mobile experience that keeps employees connected and productive on the go.
Recommendations
Find relevant people and information fast with machine learning and Jive PeopleGraph technology.
The Jive Advantage
What makes Jive different from other collaboration platforms? Six elements that we call The Jive Advantage.
PeopleGraph™ technology that maps your users and anticipates their needs
Modern collaboration hub that brings your people, content and resources together
Google-like search that delivers hyper-targeted results
Fast implementation with our tried-and-true deployment methodology
Comprehensive training and onboarding program
24/7 U.S.-based customer support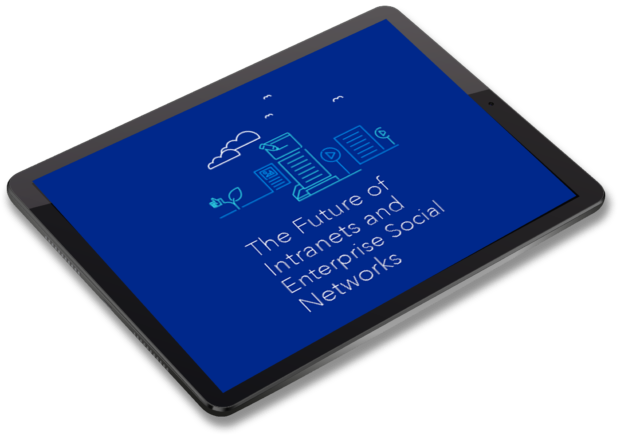 EBOOK
The Future of Intranets And Enterprise Social Networks
Learn how to unite the best capabilities of traditional intranets, ESNs and modern collaboration systems. Give your company a single, cohesive environment for company communications, collaboration and knowledge-sharing.
Frequently Asked Questions:
We've got your back every step of the way!
How does enterprise social networking work in a company?
Enterprise social media boosts company productivity by increasing employee engagement and collaboration. Our industry-leading social software offers employees an innovative platform to connect, share and get work done. Learn more about Enterprise social network (ESN) functions and modernize your business collaboration.
How can organizations leverage enterprise social media analytics data?
Your company's enterprise social media analytics offer data-driven insights on employee engagement and community growth, and they can help you improve performance across the entire organization. Find out how.
What is machine learning?
Machine learning, or artificial intelligence (AI), allows systems to learn and improve automatically by reacting to different data inputs. At Jive, machine learning helps us understand your people, their jobs and their specific needs. By using machine learning and AI, our employee intranet delivers the right information at the right time to ensure seamless communication across your entire organization.