Jive: If you had to sum up what Jive is to Humana in one sentence, what would you say?
Sabrina: Jive for Humana's employer group division is a sales enablement tool we have named "FUSE," which harnesses the power of community and connects representatives, helping to identify subject matter experts and enable two-way communications between Sales and supporting business areas.
Jeff: Aside from FUSE, we have six other Jive-powered communities that play an equally important role in connecting Humana, helping us achieve our goal of providing people with their best health:
Hatch, our other internal community in addition to FUSE, uses Jive as the team collaboration platform for its Digital Center of Excellence for about 500 users, where document collaboration and leader blogging are primary use cases.
MyMedicareAnswers.com provides expert answers about Medicare to anyone aging in to Medicare or to their caregivers.
HumanaVitality is a primary customer service community for those enrolled in our health benefits rewards program HumanaVitality.
Clinical e-Collaborative serves as a way to connect selected medical providers with one another and to provide important data to them related to their practice.
GSO community is a support portal for employer health benefits administrators and members insured through those employers.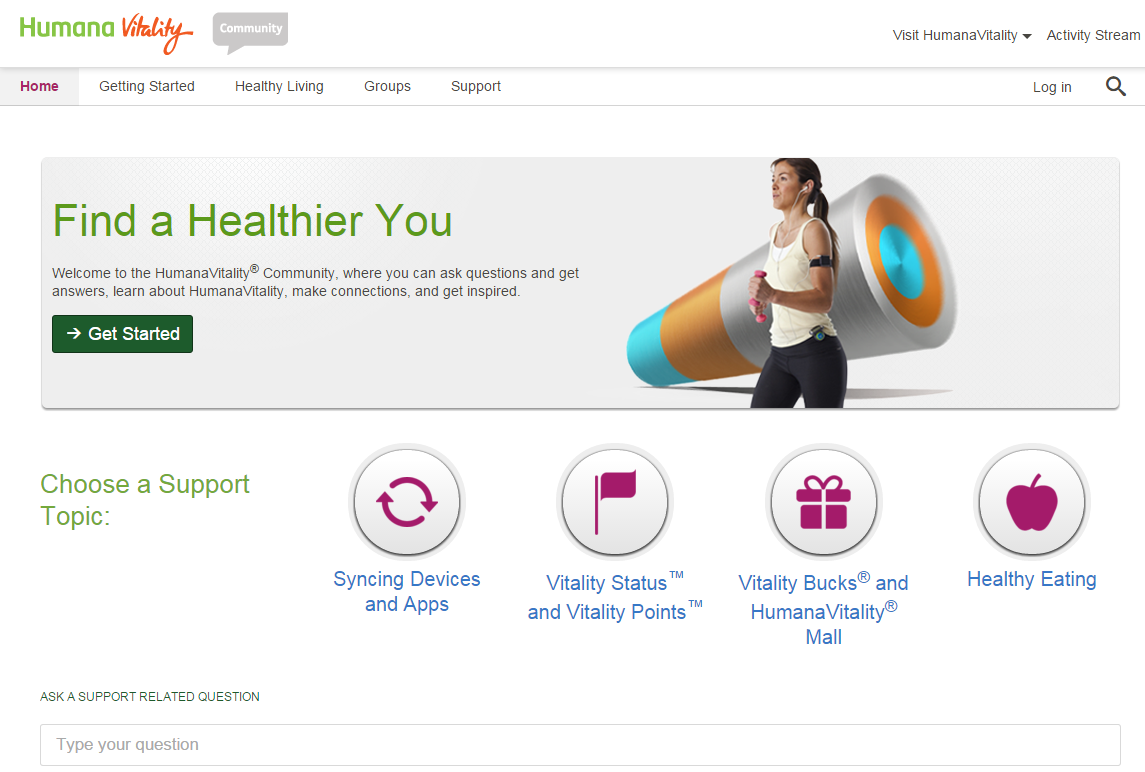 The Jive-powered HumanVitality community has about 33,000 members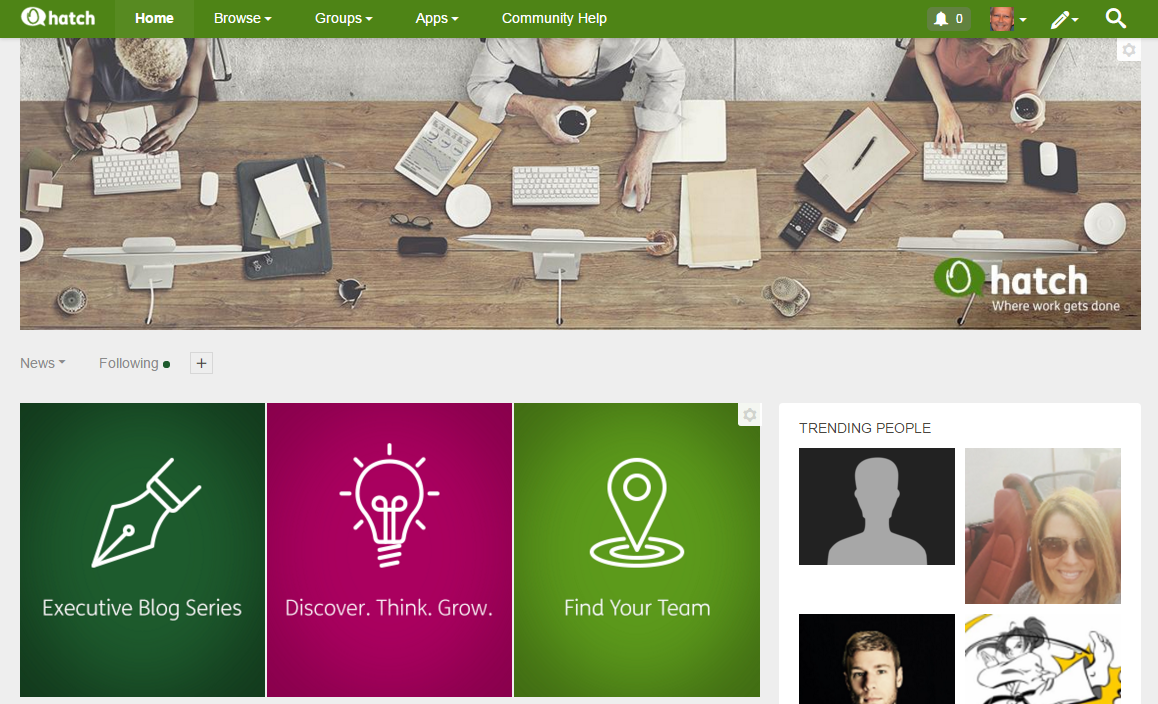 Humana's Hatch community fosters team collaboration for their Digital Center of Excellence as its primary use case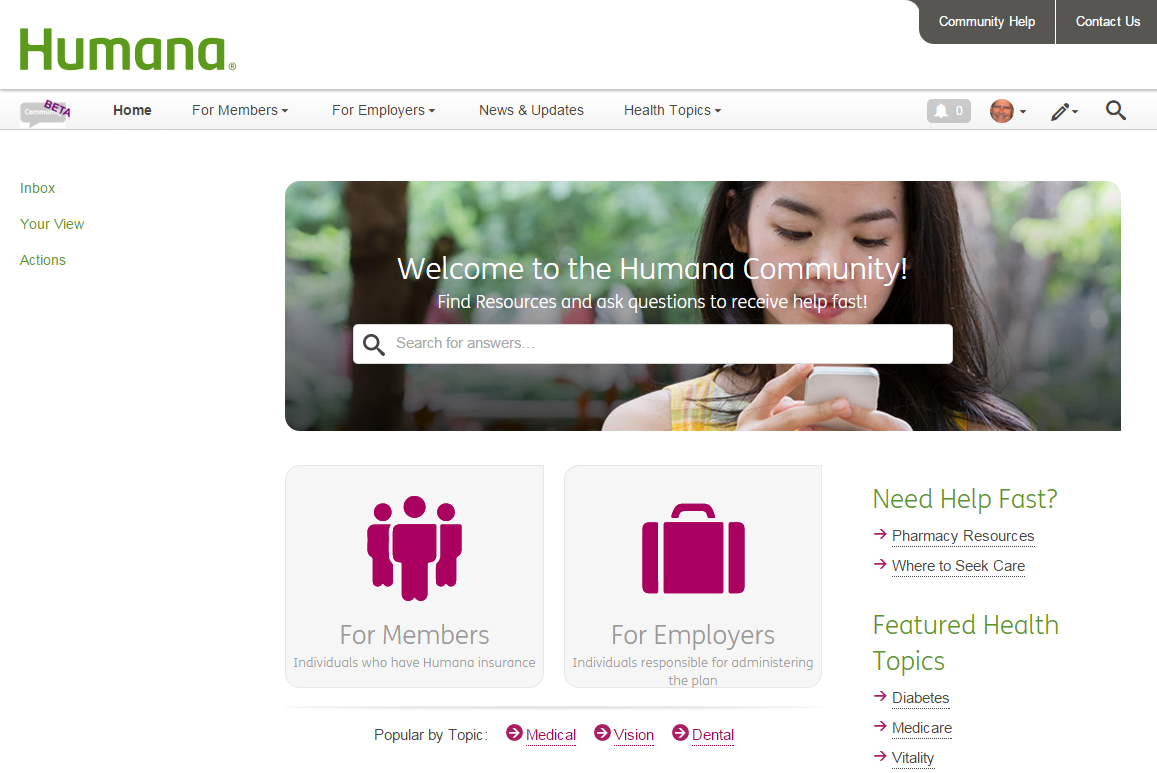 Humana's GSO community is a support portal for employer health benefits administrators and members insured through those employers
Jive: What are the top 3 benefits your company has experienced using Jive? Are there any metrics you can provide?
Sabrina:
Access for mobile workforce––web and mobile;
Powerful impact metrics for actionable insights on content usefulness;
Robust and consistent search to find information across people-places-content.
As of July 31st, with almost 1500 users, we have 99% registered and have seen over a 20% increase in engagement with our targeted audience in our first year. And while not quantifiable, the sentiment of this Jive platform compared to the previous platform is remarkable. User feedback has been incredibly positive. Users have appreciated the easy to use search functionality, how helpful it is to know exactly what content is the latest version, and what they can officially share with their clients. Awareness and adoption of our official documents are now at an all-time high.
Jeff:
Providing quick answers to questions;
Reducing support calls––specifically for HumanaVitality;
Enhancing document collaboration for teams.
With over 33,000 members in the HumanaVitailty community, the first quarter of 2016 saw a support call volume reduction of 13% below what was projected, explainable largely due to the 14,000 views of answered questions per week in the community and the regular guidance through emails and support calls to point members to the community for such help.
Jive: What department(s) in your company utilize Jive and how does each one uniquely leverage the community to accomplish group tasks/projects and achieve department goals?
Sabrina: FUSE was created specifically for our internal sales associates in the Employer Group team, as well as its supporting business areas. Having access to the right SME's has been incredibly helpful in streamlining the questions asked and answered. The average response time to a "correct answer" has decreased significantly. In addition, teams now have their own space where they can share best practices and collaborate like never before.
Jeff: Our Hatch community has team collaboration for our Digital Center of Excellence as its primary use case, with project collaboration with other business areas as a secondary use case.
Jive: What has Jive's biggest impact been on you, personally? How has it changed the way you work?
Sabrina: Our goal is to leverage the latest digital tools to support our sales associates and add transparency. By leveraging Jive, the community has helped increase internal engagement across otherwise virtual teams. Associates have commented they feel they are more connected to their senior leaders through hearing from them via blogs on the platform; they've also appreciated the two-way communication available through the commenting functionality. We continue to listen for feedback and evolve the site and being able to do that in such a collaborative work environment has been very rewarding.
Jeff: Jive has helped our Digital Center of Excellence better collaborate on documents and stay in touch with what is top of mind with leaders through their regular blogging. Also, the great search capabilities within Jive make finding what you're looking for very easy––no more browsing forever in SharePoint to try to find something!
Jive: Looking forward 5 years, how do you foresee Jive supporting your company's vision?
Sabrina: This is just the beginning, as the needs of our members and associates change, we are looking forward to continuing to drive a positive sales culture with increased visibility of the great work going on across the business.
Jeff: We envision extensive internal and external use of the platform. Internally, Jive will help us reduce the number of places we currently have to go to do our work, and it will become a more user-friendly, all-inclusive, cohesive work environment than we have experienced in the past. Externally, Jive will help us live out our desire to provide the best customer experience we possibly can, connecting with members, providers, agents, brokers and potential customers personally and in ways that are easy and effective.
Learn more about How Jive Can Impact Your Collaborative Workplace
Humana's Sabrina Deitch Explains how Jive Serves as a One-Stop-Shop for Sales Content and Collaboration for Humana