Whenever possible, we make a point of contributing to discussions in the industry and sharing what we've learned from working with companies all over the world to drive employee engagement. Most recently, we spoke with some top media outlets in Germany during our Aurea Experience 18 conferences. We gave them a sneak peak of Aurea PeopleGraph, the relationship intelligence platform we're building to shape the future of Jive's collaboration solution, and our general manager of Europe, Christian Stadlmann, contributed an article about digital transformation trends.
Best Practices for Driving Digital Transformation at Schaeffler Group
In the leading German IT publication, PC-Welt, Christian covered best practices for speeding your digital transformation, with quotes and learnings from a forward-thinking Jive customer, Schaeffler Group. Specifically, his article explored how better collaboration and internal communication helped to accelerate change among the manufacturer's 60,000 global employees. Here's a translated quote from Schaeffler's intranet project manager, Katrin Fischer, about the company's Jive-powered interactive intranet, which they call "Schaeffler Connect":
"….We have noticed an increase in commitment among our colleagues. Many are already participating in the community, helping when necessary and contributing knowledge. This shows us that working together on and with the digital future is the way forward."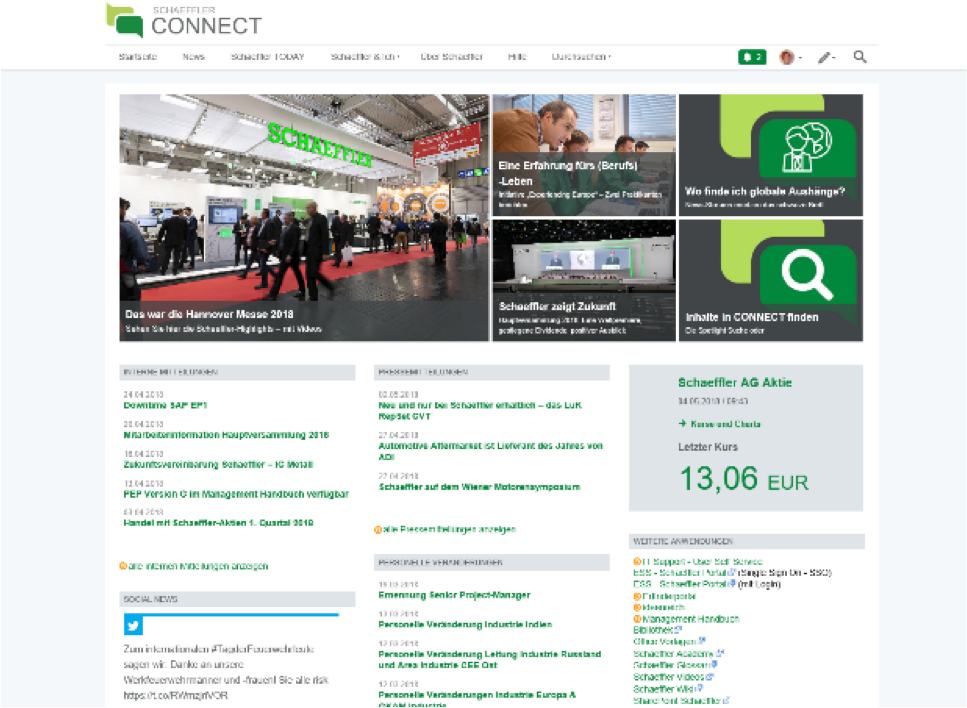 The German automotive and industrial supplier sees digitalization as an opportunity for the future, and turned to Jive to help simplify and revitalize communication within the company. Schaeffler Connect now supports collaboration, expert communities, file sharing and a news feed with all relevant company news. Katrin and the Schaeffler team helped change employee habits by communicating the advantages of the intranet and training people to ensure the company's knowledge was digitally accessible to everyone. One of the reasons this worked so well was that they involved key executives in the process and gave employees new ways to connect with their leaders through Schaeffler Connect.
For more on Schaeffler's success story, check out this recent interview with Katrin by our senior strategy consultant, Michelle Gantt.
How PeopleGraph Technology Will Shape the Future of Jive
In other news, German business publication MaschinenMarkt recently posted an interesting overview of Aurea PeopleGraph. The reporter, Melanie Krauss, noted that:
"The software provider Aurea presented its new PeopleGraph platform for the first time at Aurea Experience in New Orleans. It is to become part of the Jive collaboration solution and will use algorithms to analyze connections between employees and content. It interprets both explicit hierarchical relationships and implicit relationships with people who have similar skills or interests. Aurea CEO Scott Brighton compared PeopleGraph to the brain of a company that understands the dynamic relationships within the organization." (translation)
She went on to explain how this kind of graph database technology can make employees' work and collaboration more efficient by mapping and analyzing interrelationships. In addition, she offered a few examples of how this could work in action, explaining that PeopleGraph will enable Jive to:
Propose useful documents or experts in real time while you're working on a project.
Deliver search results based not only on keywords, but also on employee interactions in order to help you find relevant content more quickly.
Prioritize news feed content from colleagues with whom you maintain closer relationships.
Stay tuned for more updates as we continue to build out the PeopleGraph platform and bring even more great collaboration functionality to Jive.