As you may have heard, our long-time customer, Vodafone Ukraine, was recently honored with a Gold Step Two 2018 Intranet and Digital Workplace Award. The leading Ukrainian mobile operator has been using Jive for four years to successfully fuel employee collaboration and strategic alignment. As a result, the organization doubled its employee net promoter scores, achieved over 88 percent adoption, and saved over $2 million through increased employee efficiency (by spending less time in meetings and making corporate memory searchable).
On November 13, we'll hear from world-class internal communications experts like Tetiana Kipiani and Andriy Yaremko from Vodafone Ukraine, as well as Anna Kravets, CEO, ANROM Social Business, during our digital workplace track at Aurea Experience 18 in Munich:
Breakout Session: Tuesday, 13 November, 1pm
Title: How to fuel a world-class digital workplace to encourage action, innovation and drive real business results
Recipient of the prestigious 2018 Worldwide Intranet and Digital Workplace Award, Vodaphone Ukraine, and their partner ANROM, share the challenges and lessons learned in achieving over 88 percent community adoption, driving improved employee satisfaction and delivering millions of dollars in cost savings with their Jive community. This session will leave you with plenty of techniques for engaging employees and best practices you can implement within your community today.
In preparation for Aurea Experience, I recently checked in with the Vodafone team to find out more about how they've using Jive to achieve these fantastic results. Here are some highlights from our conversation.
Katherine: Which best practices surrounding Vodafone Ukraine's community adoption and employee engagement are you most proud of?
Tetiana Kipiani, Head Employee Learning & Development and Internal Communications, Vodafone Ukraine:
We are very grateful to the Jive platform for its flexibility and technical possibilities, which have been helping to bring all our ideas to life for the past four years. We are really proud of all the customizations that we were able to implement in PROSTOR (what we call our Jive-powered digital workplace). Those unique features allow us to use the intranet as a driver for organizational change and cultural transformation. They are:
OVATIONS, a module that lets people give digital thanks to colleagues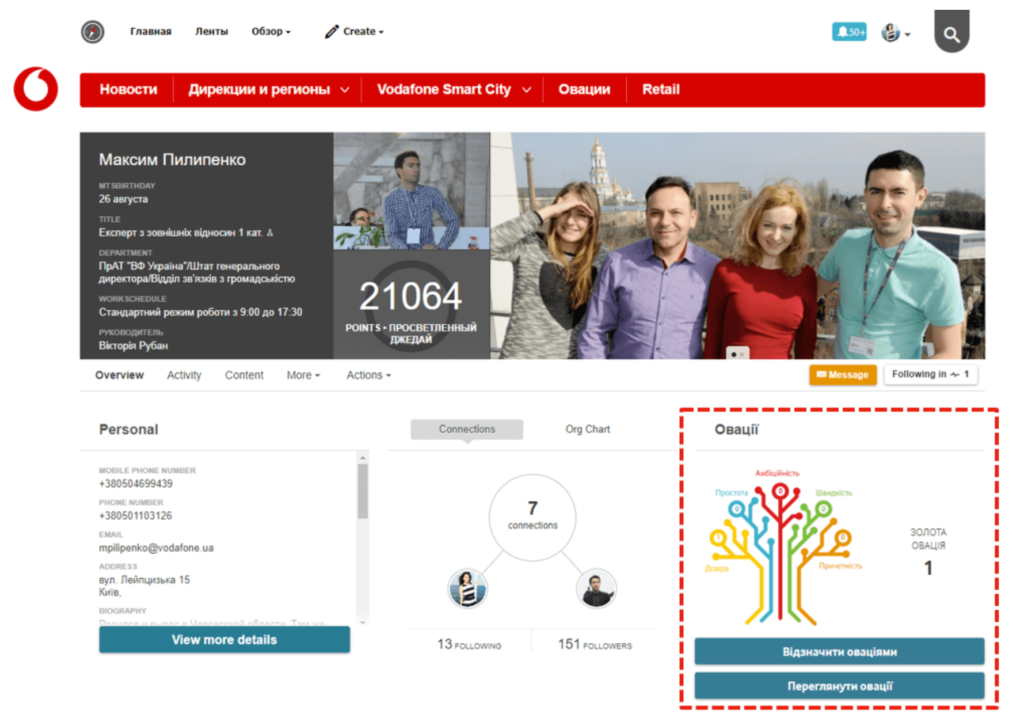 2. Vodafone Smart City, a gamified module for volunteer activities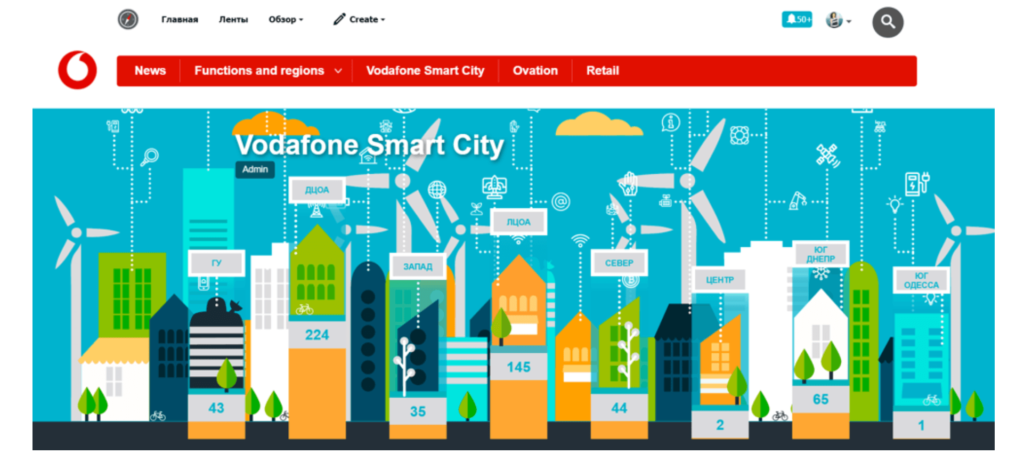 3. In touch with Executives, online chat rooms with our top leadership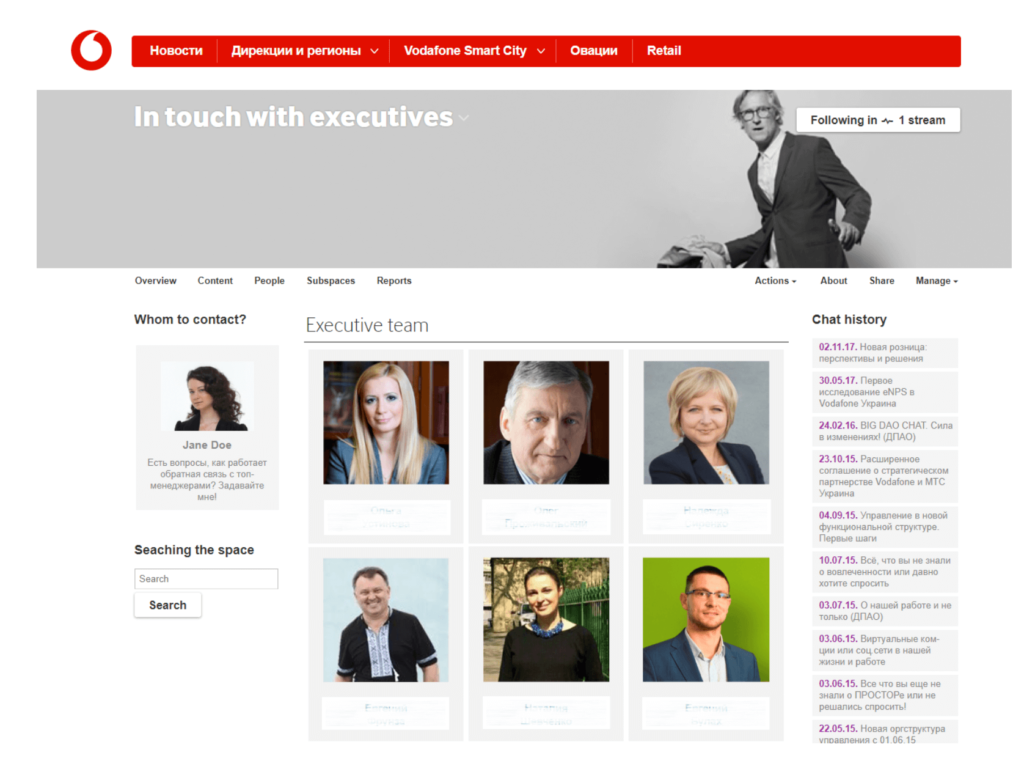 4. Agile Knowledge Base, where we promote tools for flexible management models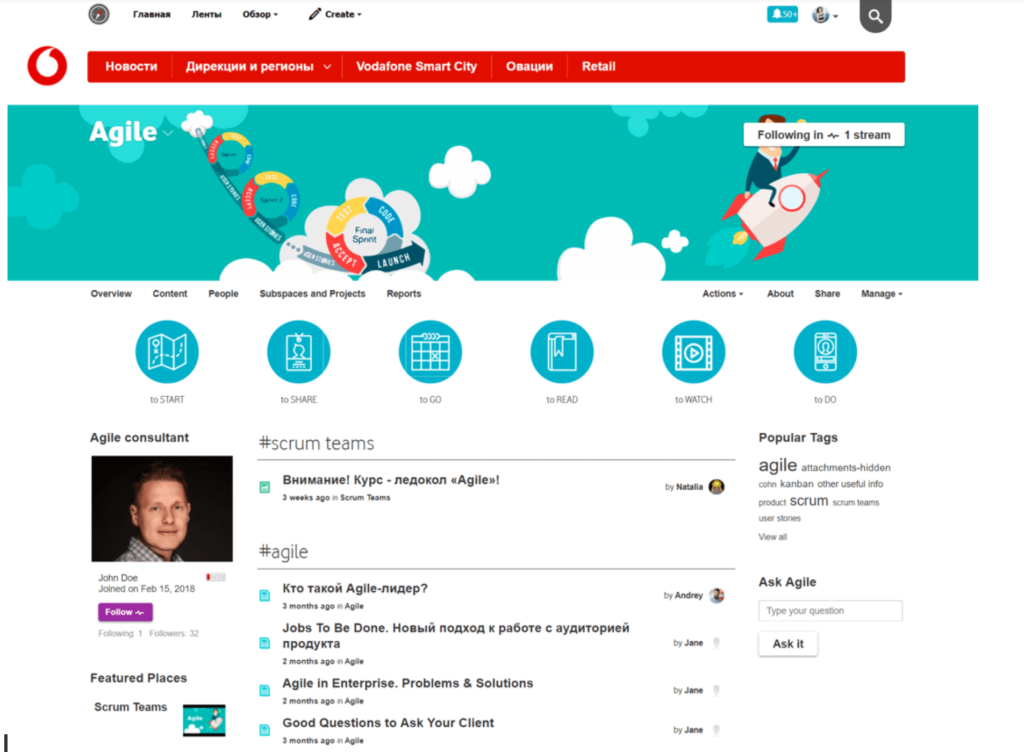 All of these creative UX/UI design solutions effectively support real business processes and strengthen the main vectors of our company's development strategy.
Katherine: How do you think workplace technologies and mindsets need to evolve to address employees' changing needs?
Natalia Humenyuk, Expert on Employee Development and Internal Communications, Vodafone Ukraine:
We believe all intranet functionality should be interesting, useful and attractive to users in the first place. At the same time, digital workplaces should contribute to the achievement of business objectives. It's useful to follow the trends as well, because your digital workplace solution must align with the processes and phenomena that are happening globally.
And it's not just about business. Sometimes, to keep users engaged, you need a bit of hype. The source of your inspiration could be found in showbusiness, mass media, etc. For example, for the last couple of years, we have been pursuing the challenge of creating a strong community of corporate bloggers. We call this project "Vodafone's Bloggers Hub." We've taken employees all around the country and taught them all the subtleties and tricks of vlogging, copywriting, photo blogging, etc. We've taken all the risks and just done it.
This case was even recently recognized by global intranet community. The jury of the Intranet & Digital Workplace Awards 2018 noted our project as a unique and courageous example of adding a strong blogging ingredient to the company's corporate culture mix. So, do not be afraid to be modern in a corporate environment — this is our credo.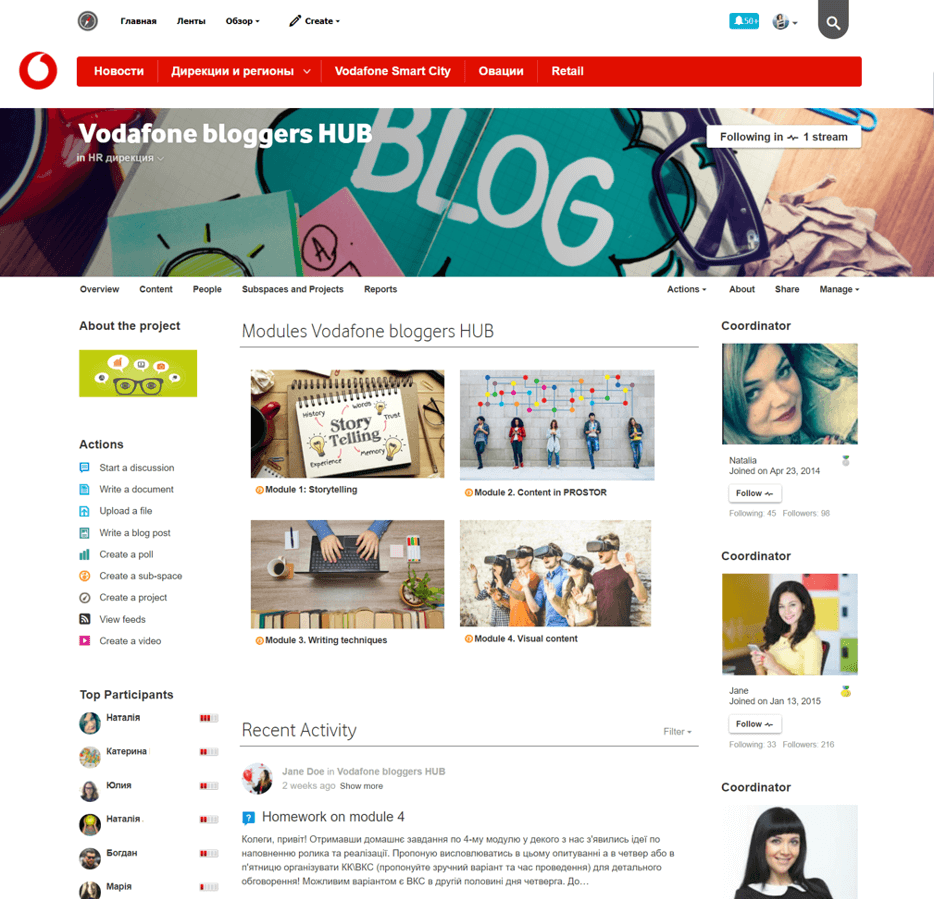 Katherine: What are you most looking forward to next week during the Aurea Experience conference?
Andriy Yaremko, Expert on Employee Development and Internal Communications, Vodafone Ukraine:
It will be our first participation in this kind of professional event. We are looking forward to meeting like-minded people. We are ready to share our stories of the ups and downs of our PROSTOR community. We want to learn about the successful use cases of colleagues, intranet trends and, then, use this knowledge to improve Vodafone Ukraine's PROSTOR. And of course, we will be happy to share some tips from our experience of winning global awards.