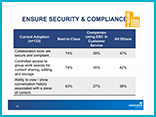 On Demand Webcast
Maximize the ROI of Customer Service
Customer service representatives are at the forefront of service delivery activities. Their activities directly impact brand awareness and loyalty. It's crucial for businesses to empower these key stakeholders with relevant and timely insights in order to provide superior levels of customer service and stand out from the competition.
Listen to learn how empowering customer service representatives with social collaboration tools help businesses reduce service delivery costs and maximize revenue through targeted cross-sell and up-sell activities. In discussion with Aberdeen Group, we'll cover:
The business value of social collaboration in customer service.
Best practices in developing a collaborative customer service culture.
How to gain employee buy-in for use of social collaboration.
Q&A to discuss your questions on the topic.