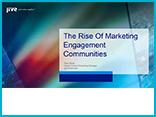 On Demand Webcast
The Rise of Marketing Engagement Communities
In this 17-minute recorded webcast, learn from Jiver Wim Stoop how marketing engagement communities have emerged as such powerful tools for answering the marketing leader's perennial questions:
How do I drive brand affinity and loyalty for new and repeat business?
How do I stimulate innovation from customer insights and feedback?
How do I deliver great experiences to bring our customers back time and time again?
Marketing engagement communities provide a platform for engaging with customers and prospects — a platform that enables you to deliver a brand that "pulls." Here, then, is the competitive edge to enhance traditional "push" techniques in marketing your products and services.
Watch now to examine changing end-user expectations and what organizations need to deliver marketing engagement communities that rock!