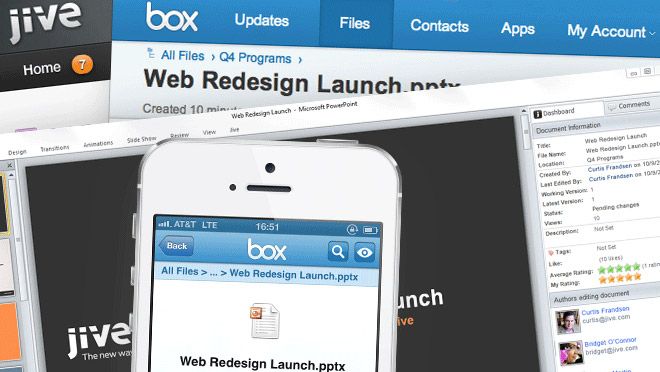 Jive's Box integration seamlessly integrates Box content into your Jive intranet and collaboration platform, connecting you to all the people, information and tools you need to do your work.
With the Box integration for Jive, you can quickly and easily share and collaborate on files stored in Box's cloud software from inside Jive. Or you can work in Box directly. Either way, all content and comments are synchronized across the two platforms, and across all your devices. It really is a best-of-both-worlds solution: secure, enterprise-class content sharing and comprehensive, anytime/anywhere collaboration for you and your team.
How Does The Box Integration Work?
Collaboration in context
Documents and other content don't exist in isolation. They're usually part of a larger process or project, like planning a new website, launching a product or closing a sale. Jive provides the context, bringing content into collaborative team spaces where all stakeholders—inside or outside your organization—can share, comment and work together. People can meet up, connect, follow each other and stay in sync at all times, all while sharing content in Box. Jive extends this social collaboration to a wide range of tools and environments, including Microsoft Office, Outlook and SharePoint; smartphones and tablets; and any website or web-based app. Wherever and however you prefer to work, you have continuous access to all your colleagues, conversations and content.
All your resources in one spot
Jive groups not only unite all team members, they also bring together all the tools and resources you need. You can continue sharing and working in Box, but now you can see related content, calendars, activity feeds, discussions and essential information from other enterprise systems in one place, at a glance. Jive even recommends related content proactively.
Seamless integration
Nothing falls through the cracks, since there are no cracks to fall through. Add or change a document in a Box folder, and see the changes reflected instantly in Jive. Add or change a doc in Jive, and the same thing happens in Box. Whether you're working in your browser, Jive for Office, your Jive mobile app or Box mobile app, all files and comments are sync'ed across all systems. Searching is integrated too, so you can easily find content whether it's in Jive or Box.
Using the Box Integration
Using Box storage in groups
Once the Box integration is installed, when you create a group in Jive, you have the option to connect it to Box. When a user uploads a document, it's stored in Box instead of the regularly configured binary storage location. Files are automatically synchronized in both directions, and so are comments and replies, so users can interact from either the Jive side or the Box side.
Modifying files in Box
Files can be modified on the Box side by any user who has a Jive account and rights to the group-linked folder in Box. In addition, file comments made in Box are be synchronized and displayed in the Jive group.
Frequently Asked Questions:
We've got your back every step of the way.
What is the Jive Box integration?
Jive's Box integration provides users with an enterprise-class file-sharing experience. Businesses can leverage both Jive's robust collaboration system and Box's cloud-based content management features.