Create one cohesive experience that simplifies life for users and IT departments.
Microsoft provides all sorts of important capabilities – from document creation and management to calendaring and email – that businesses large and small depend on. But the Microsoft stack is full of disconnects, overlaps and gaps that lead to confusion, inefficiencies and reduced productivity.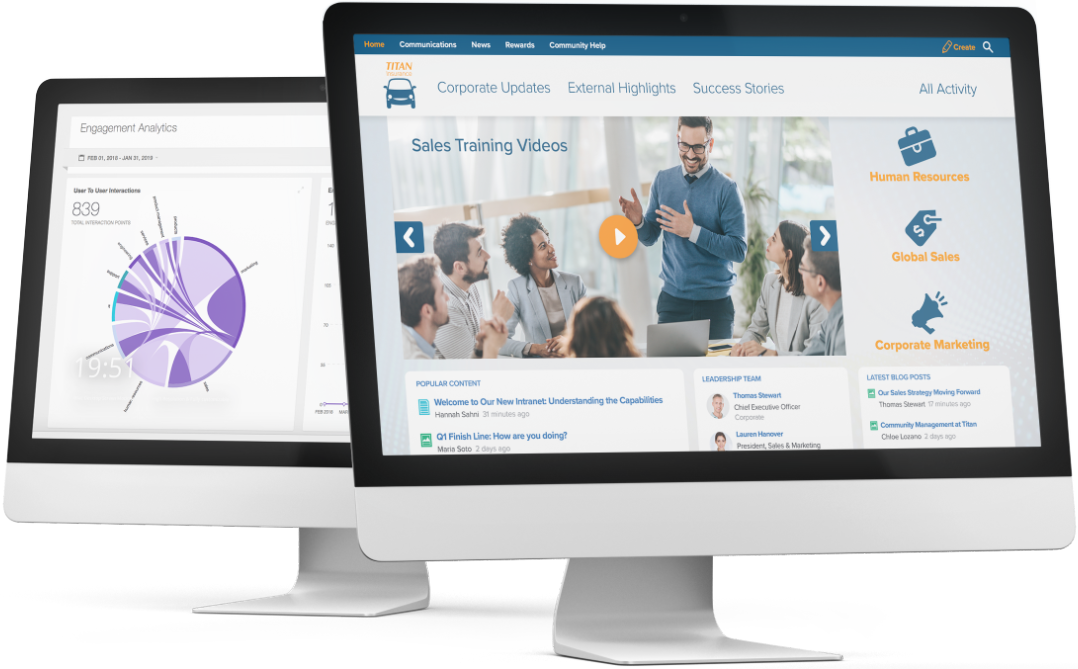 Want to bring sanity to your collaboration landscape and get the most out of your Microsoft investment?
Using Jive's pre-built integrations, you can combine the capabilities of Office 365, SharePoint and Jive in one cohesive experience that simplifies life for both your users and IT departments. The result is a complete collaboration hub and interactive intranet – a single digital workplace – that ends fragmentation, drives productivity and maximizes the ROI of your Microsoft portfolio.
It's not hard, either. There's no need to rip and replace your existing infrastructure. Just add Jive, hook it up to your Microsoft systems using our out-of-the-box connectors and reap the benefits of unified, enterprise-wide collaboration and communication.
Jive's capabilities pick up where Microsoft leaves off,
augmenting Microsoft apps with critical functionality in areas such as:
Intranet Capabilities
Jive is a turnkey intranet platform providing essential functions that Microsoft tools lack, such as company and departmental news, employee support and onboarding, a people directory, expertise location and more.
Analytics
By itself the Microsoft stack offers little beyond basic activity statistics. Jive has the industry's most advanced and wide-ranging analytics suite, providing deep insight into people and processes across the enterprise.
Personalization
Jive filters out the noise and ensures that the right information reaches the right people at the right time, delivering personalized news feeds, activity streams, notifications and recommendations.
User Experience
Jive is simple and intuitive, and it makes connected systems like Microsoft easier to use, too – by bringing them into a single, seamless environment where everything is easy to find, share and collaborate on.
Search
With Microsoft alone, search is fragmented, generating different results depending on which app you're looking in. Jive provides rapid, unified search of people, places and content – across Jive itself and integrated systems, including Microsoft and non-Microsoft products.
Integrations
Office 365 struggles just to integrate with other tools in the Microsoft stack, and it's even more difficult to integrate Office 365 with non-Microsoft systems. Jive brings it all together, collapsing silos and bringing all your critical systems into one enterprise-wide collaboration fabric.
By adding Jive to Microsoft, you get the best of all worlds. You can continue using your Microsoft tools, along with all the content you've created with them, but far more easily, transparently and productively than ever before. Your Microsoft stack becomes part of something bigger: an interactive intranet and unified digital workspace in which everything – and everybody – works better together.