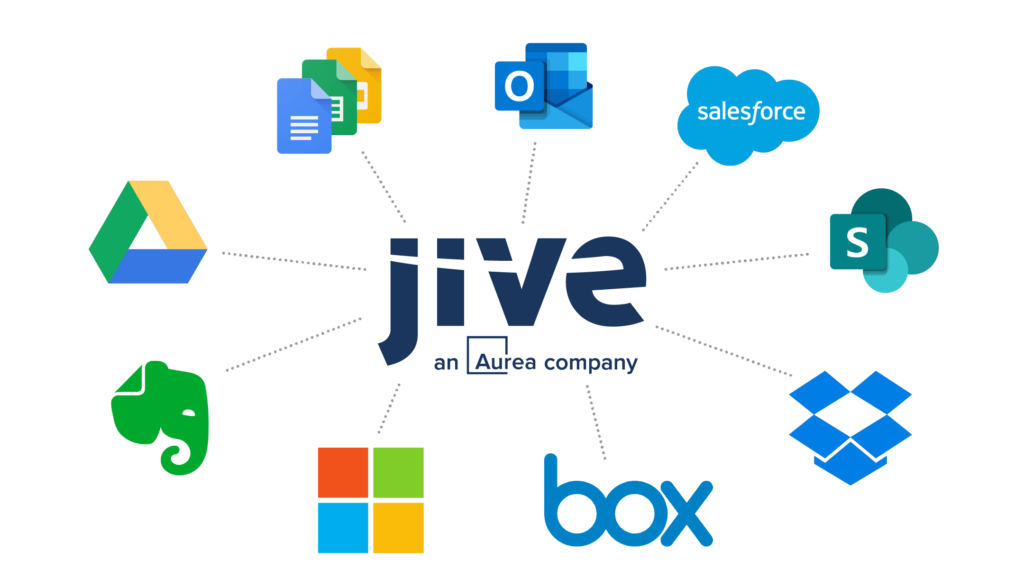 Synchronous Document Collaboration in Microsoft Office
Put a stop to out-of-control review cycles and clashing document versions. Jive for Office turns Microsoft Office into a real-time document collaboration platform, enabling users to jointly create, comment on and revise Word, PowerPoint and Excel content while keeping all drafts and authors completely in sync. The Office Module connects Office to your Jive intranet, employee community or customer community, bringing all the power and productivity of Jive collaboration to users while they work in their favorite Microsoft Office apps.
Drive collaboration and transparency by easily publishing Office content to Jive.
Unlock siloed content by making it simple to browse, search and view related files from inside Office. Jive's intelligent recommender automatically suggests related and relevant content from your Jive intranet or community.
Eliminate confusion by maintaining a single synchronized version of a document across Jive and Office – even when multiple authors make edits to the content in parallel.
Accelerate adoption of your Jive instance by enabling users to engage with Jive from familiar Microsoft Office tools.
No more clashing versions
You know the drill. Someone sends out a new doc for comments. Before long there are multiple out-of-sync drafts and email strings, and things quickly spin out of control. Eventually someone has to spend half a day sorting it all out.
Jive for Office puts everyone on the same page, literally. There's only one version of the document and all editors work together on it. If an update's made, users with an outdated version are notified directly in Office. Using Microsoft's own merge and review process, you can quickly decide which changes to keep, reject or combine. You can share documents directly from Office with other Jive users and assign read/write privileges. Best of all, users can be on different versions of Office and even work offline. Everybody's a lot more productive, and a lot less frustrated.
Drive successful outcomes, fast
Jive for Office provides everything you need to close the loop and deliver results faster than ever before. Users can discuss content directly in Office to exchange ideas and come to a consensus. Jive lets you mark decisions and content status, so everybody can see at a glance what's decided, what's final, what's official or outdated. You can add tags, too, making it easier to find and sort documents. And nothing gets lost: you have a complete record of document versions, comments, decisions and discussions for future reference, all in one place.
Compatibility
Jive for Office is compatible with the following products and versions:
All Jive-n and Jive-x versions 4.0.8 and higher
Windows versions of Microsoft Office 2007 with SP2, 2010 with SP1, as well as 2013 and 2016