Simplify Deal Collaboration by Bringing Salesforce Data Into Jive
Jive Deal Rooms are collaboration spaces in Jive's interactive intranet where all stakeholders – inside and outside your sales team – can can share information, track status, get answers and work together to win deals. In minutes you can bring together all the players, all the resources and all the information you need, in one convenient location.
That includes real-time data from your Salesforce system. The Salesforce Opportunities and Chatter Connector pulls Salesforce account and opportunity information, as well as Chatter conversations, directly into Deal Rooms. The bidirectional integration also displays Jive Deal Room comments in the Salesforce Chatter feed, so everyone working on the deal can stay in sync no matter which system they're working in.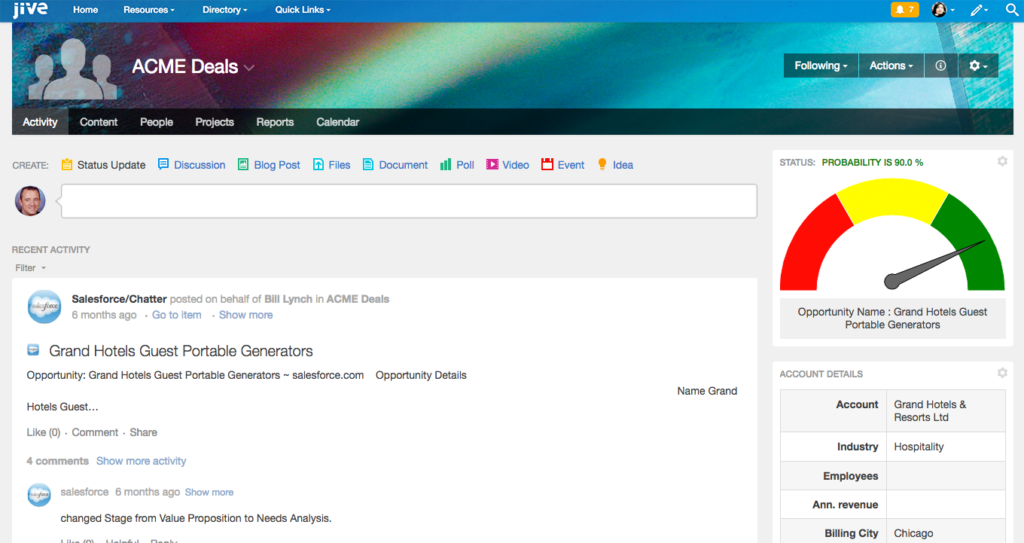 The Salesforce Opportunities and Chatter Connector pulls Salesforce data into Jive, where all sales stakeholders share and collaborate to win deals.
Easy Setup
Any seller can create a Deal Room for team collaboration and link it to Salesforce in minutes. Just enter your Salesforce credentials and select an opportunity from Salesforce; all opportunity, account and Chatter information will be pulled in and displayed. Deal Rooms can also easily connect to and pull in information from other systems, such as SharePoint or Box.
The integration works both ways: If a Chatter update appears in Salesforce, it also appears in the Deal Room, and when people post comments in the Deal Room, the comments are visible in Salesforce. All of this information is accessible from email as well, using the Jive for Outlook connector.
Aligned to Your Sellers and Business
Visibility can be set so Deal Rooms are open, completely secret, or require approval to join.
External contributors such as partners, customers or prospects can be invited securely.
For multiple Deal Rooms or larger opportunities, projects can be set up to assign milestones and tasks.
Updates in Salesforce, such as changes in deal size and sales stage, as well as Chatter notifications, are automatically displayed in the Deal Room.